In addition to my previous post on Italian travel—Tuscany— I would like to share an unpredictably special experience in a spot we visited for the first time: Pienza. Sometimes there is one experience that eclipses all others and becomes the highlight of your vacation. It gives you that memorable moment, the one you long to relive sometime soon….
Pienza, located in the province of Siena on the Tuscan/Umbrian border in between the towns of Montepulciano and Montalcino, was termed by the architect Nicholas Adams, "the touchstone of Renaissance urbanism." Personally, I knew nothing of the place before arriving there. It is not the best base for touring Tuscany. We ended up there as the result of a search for a good boutique hotel in Tuscany. You'd be surprised but there just aren't many nice but modern places which allow the visitor to enjoy the combination of simple luxury alongside local atmosphere. Tablet was the website that introduced us to La Bandita Townhouse which I was later to learn was located in the historic center of Pienza. This was a first for me—staying in the heart of an old town and driving our car through unbelievably tiny alleyways. It is only when we got there, a family of 5, that we understood our actual location. Access with a car into the center of the old town is limited to residents, but with a special permit we were allowed to drive in to unload our luggage.
We were welcomed by the owner and receptionist with a warmth and enthusiasm seen in movies as the typical ambience of Italy but rarely encountered in reality. The hotel was built by an American couple, weary of their fast-track careers, who left behind the big city to open a small guesthouse in an idyllic setting. You can read more about their story here and here. It was wonderful to find a large, loft-style suite (reasonably priced considering the demands of high season) that accomodated all 5 of us, allowing us to spend valuable time together. What appealed to me was the blend of the building's preserved exterior with the entirely renovated interior, which allowed our whole experience to integrate with the day-to-day life of the locals. You don't need to sleep in an old wooden bed with weary bedding to feel connected to a place. Exquisite cotton sheets can do wonders for a good night's sleep; likewise for a spotless and inviting bathtub. As you can see in the picture below, from our bedroom window you could almost reach out and touch the neighbor's window on the opposite side of the narrow street.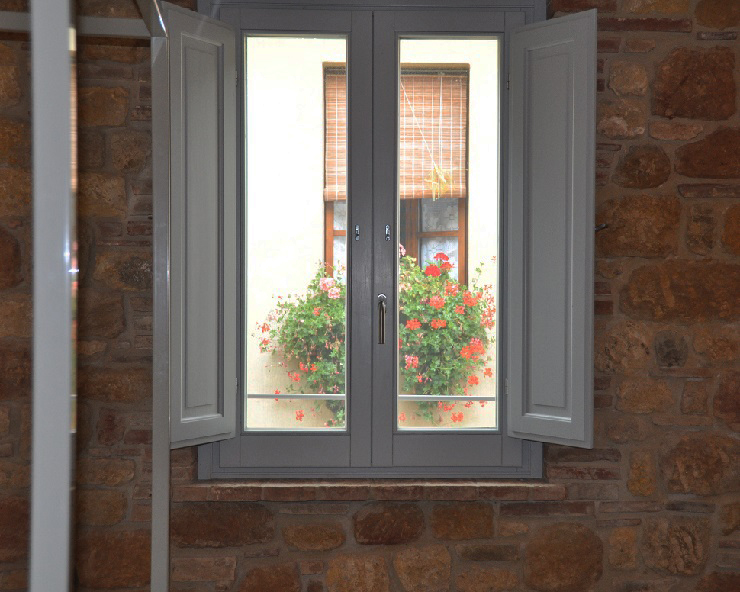 But lodgings aside, Pienza turned out to be the real highlight of the area: a tiny Renaissance village surrounded by beautiful countryside, a great base for exploring the vineyards and towns of the area. As a family with children, we were immediately looking for action. In answer to our question, "OK, so what is there to do around here?", John, the owner, replied with a pleasant yet slightly mocking expression: "Nothing, just relax."
Well, his "nothing" turned out to be quite a lot. First, because it wasn't quite right; there were in fact quite a few nearby attractions such as: Podere Il Casale, a local farm with cheese tasting and a nice lunch in a lovely setting on a balcony overlooking the surrounding countryside; Bagno Vignoni, an ancient Roman bath town with hot springs; and the towns of Montepulciano and Montalcino—all of which comprised a little more than just "nothing." Second, because it allowed us just to observe, and get into the rhythm and pace of this little town. We stayed for 4 nights (don't settle for less), and the lack of a gym forced us to "compromise" by taking our morning runs along the walkways circling the town. The absence of a large outdoor balcony (typical of most Tuscan places) compelled us to find and enjoy a lovely wine bar, Il Casello, located on a walkway above the walls, for our pre-dinner aperitif as we watched the sun setting over the valley. There is no doubt that the right location can accentuate a positive mindset and thus create a memorable experience. Such was the impact of Pienza and La Bandita and its crew on us: a calming and quiet atmosphere, not in a tedious way, but, as described on the website, a "youthful, thoughtfully executed and thoroughly hip getaway that blends rustic village charm with urban savoir faire."
Enjoying the everyday life of this town led us to a local coffee shop where we enjoyed meeting the bartenders and mingling with the locals, to the fantastic Pummaro pizzeria which offers original flavours and combinations, to two great traditional Italian restaurants Trattoria Fiorella and II Rossellino where we ate some of the best Italian dishes of our trip. We also had the time to enjoy the charming shops where we could peruse Italian fashion and local products. Nothing done in a hurry, nothing done in accordance with a checklist.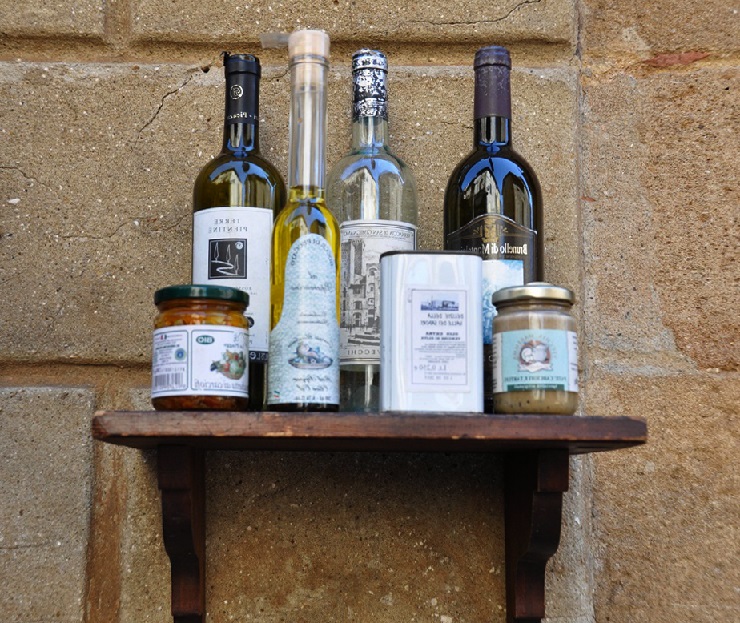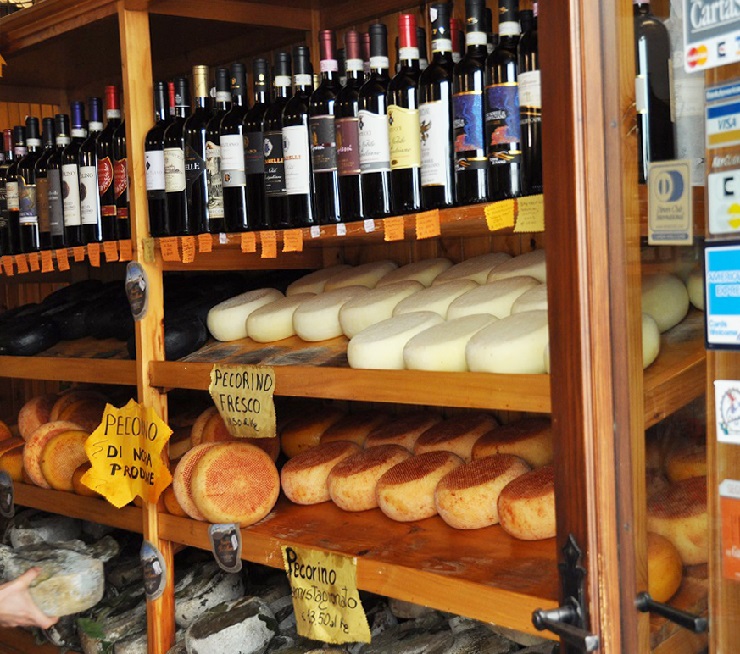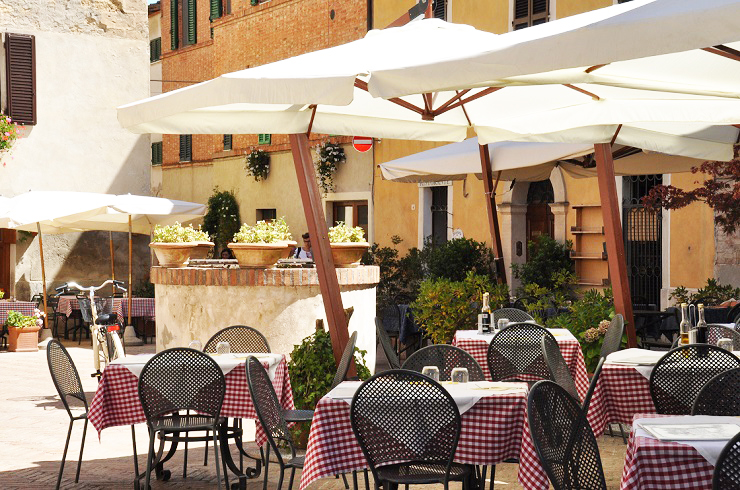 La Bandita was simply wonderful. The hospitality, atmosphere, design, accommodation and service. The only thing it lacks is a pool or any other means for full body relaxation and an energy boost. Make sure not to miss out on dinner in the hotel restaurant—the Townhouse Caffé—which serves some delicious, modern-semi-Italian, dishes.
And so, while Pienza is a small town and not even a medieval town which takes your breathe away upon arrival, it has an elusive charm that cannot but delight you. For this reason, and for others mentioned, it left me with some very special memories and easily became the highlight of our last Italian vacation.